PDF Invoice Lite
2.4.9
Mijo Version
Miwo Version
Developer
| | |
| --- | --- |
| Lifetime price: $30.00 | |
The great PDF extension!

If you need a more complete version, with features like : auto invoice number generation, packing slip, backup, custom blocks, ... give a look at PDF Invoice Pro

- Features -
Download PDF invoice in user account
Manage VAT/IVA number of store and customer
Manage company ID of store and customer
Send PDF invoice with order confirmation email
Send a copy of PDF invoice to admin
Display Customer ID
Download PDF invoice in admin orders section
Multilingual support for filename
Advanced customization : logo, columns, etc.
Product thumbnail in invoice
Choose icon displayed in user account section (or add your own)
Dedicated PDF template that you can customize template as you wish (html file)
Option for disable download until the invoice number is generated
Right to left languages support (Arabic, Hebrew, ...)
Asian languages support (Chinese, Japanese, Korean)
Logo in admin invoice
Display invoice number in pdf file
Custom themes compatibility mods (I make it compatible with your theme if not yet)
Send pdf invoice on order status update
Paper size selector (Letter, A4...)
Lightweight pdf (<50ko) to reduce server stress and fast mail sending
Same invoice template for admin and user
Due date
Very easy install and update (drag & drop)
Very compatible with themes and mods
No core files modified (vqmod)
Tell me what you need... :]

The customer VAT function allows you to include in the invoice the VAT number (in other countries : IVA, N° TVA, Codice fiscale, partita IVA, ...) and company ID. The company and VAT fields are added in the user account, they can be set in required mode depending each group.
Only available on opencart 1.5.3 or newer.

- Demo -

Front-end
Go to user account (a default login is prefilled, just on login button), then section "order history", there you will see a new link to download the pdf file.
If you want to see what looks like the mail you receive when making an order, just create a new account with your mail, or directly checkout in guest mode.

For the admin section :
Back-end
Same thing, demo logins are prefilled, just clic on login button, then go to extensions > Pdf invoice pro, you can change the settings to try it out.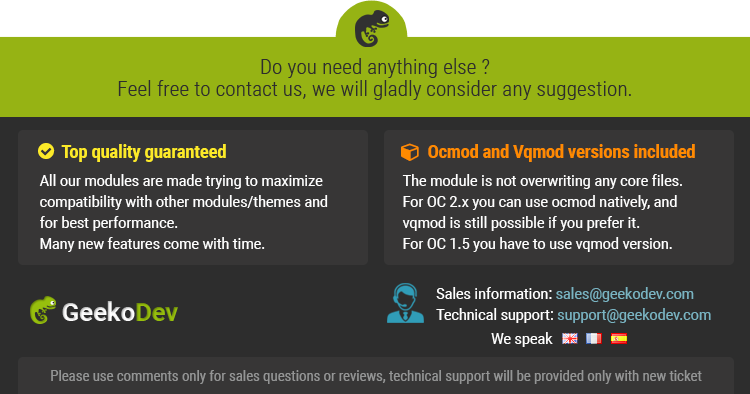 Documentation inside module package
The dowload pdf icon is not displayed in user account section (order list or order detail)
The theme integration is managed by a separate file located at /vqmod/xml/pdf_invoice_pro_default_theme.xml
If this one is not compatible with your theme first check in the folder extra theme support if there is not a file corresponding to your theme.
If there is one, just put it into /vqmod/xml/ and delete the file pdf_invoice_pro_default_theme.xml
If there is not your can customize the default one, or contact me, I will make the patch for you.
How work with multi languages ?
- Check if your language is included in the module package, in extra languages/ folder
- If it doesn't exist, just copy the english file and open it to translate it.
- Copy pdf_invoice.php language file into /catalog/language/xxxxxx/module/
If you want I integrate your language in the main package just send me back your language file
How to insert new icons ?
Just upload your icon in the folder /image/invoice/, your icon will automatically appear in admin section so you can select it.
The logo have some glitches on the pdf
Sometimes the png images with transparent background renders bad, just make a version with white background to solve this problem.
Why my logo looks smaller on invoice than store's one ?
I set a resolution of 150dpi for invoice images in order to keep them at good quality for print, if you want a bigger one you should use a 150dpi version of your logo.
How to customize the pdf template ?
Duplicate a file in /catalog/view/theme/default/pdf/ folder and edit the html as you wish.
Blank page in admin or "Undefined index: en in /admin/controller/module/pdf_invoice.php"
Cache problem on opencart v1.5.1. Delete the file /system/cache/cache.language.XXXXXXXXX and reload the page.
- Note: should be fixed in last versions

I have some "?" chars in the pdf
Encode your language files (/catalog/language/*/module/pdf_invoice.php) in UTF-8 without BOM

Error : "HTML contains invalid UTF-8 character(s)"
Encode your language files (/catalog/language/*/module/pdf_invoice.php) in UTF-8 without BOM

When I save, transparent colors is set to white
This is a conflict with jscolor library, it means you have a module who loads jscolor at anytime, even when it is not required.
Please contact the developer of this extension and ask him to make the includes only where it's for use.
Problem seen on this extension : dbassa_adca_intelligent_product_labels.xml

Why toast falls butter side down ?
Can't solve this one dude ! :]
Change log
v2.4
[feature] Compatibility with opencart v2.0
[feature] one version to rule them all : only one version of the module for 1.5.x to 2.0.x
[feature] improved attach invoice on status update
[fix] (2.4.1) text_pdf_invoice error
[fix] (2.4.2) fixed error with full locale code (en-US)
[fix] (2.4.3) product options not displayed
[fix] (2.4.6) missing logo on https
[fix] (2.4.7) menu item in admin
[fix] (2.4.8) error on order update on OC 2.x

v2.2
- [feature] chinese, japanese, korean languages support
- [feature] dutch and german translation (thanks John)
- [fix] language for admin field not saved
- [fix] untranslated messages when updating order status
- [feature] proforma or invoice display
- [fix] (2.2.8) mijoshop language handling
- [fix] (2.2.9) date format on mijoshop
v2.1.6
- First release (fork from PDF Invoice Pro)
Write a review
Your Name:
Your Review:
Note:

HTML is not translated!
Rating:
Bad
Good
Enter the code in the box below:
Have a question about this extension?
This is a pre-sale question form. Please submit a ticket from MED Ticket System, if you have an issue.
Please enter your question below and we will respond as soon as possible.
*

Your Name:

*

E-Mail Address:

*

Your Question:

*

Enter the code in the box below: